Back!
It gets harder and harder to know what is real and what is fantasy.
The Lonely Boys have never existed.
Yet I'm sitting here with a CD by the Lonely Boys.
A band that never was real, more than in my imagination is now, demonstrably, real.
Reality beats fiction.
When I started out writing the novel "De Ensamma Pojkarna" (The Lonely Boys) I wanted it published together with a CD. I thought maybe Nisse Hellberg of Wilmer X could fake a demo as the imaginary band The Lonely Boys could have done. Nisse suggested that I'd call Kjell Andersson at EMI in order to borrow a studio, and when I told him about my idea and what the book would be about Kjell said that this was exactly what he'd been looking for; a project with Per Gessle and Nisse Hellberg.
This was not a bad idea.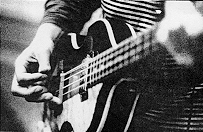 I think I already back in 1982 wrote a review in Expressen where I merged an album by Wilmer X with one by Gyllene Tider and reached a sort of a conclusion that Nisse and Per, in spite of different musical expressions in those days (Wilmer X was rhythm & blues for guys; Gyllene Tider poppy girls' favorites), had lots in common.
What in my mind was a demotape is today Nisse Hellberg's and Per Gessle's version of what could have been The Lonely Boys' first album, a band that never was, but whose first album you have in your hands.
Like I said; explain that, if you can.
Nisse, Per, Thomas Holst, Mats MP Persson and Micke Syd Andersson made this CD in like a week. Nisse and Per went into character so much that they even started calling each other Richard and Thomas, after their characters in the novel, well Nisse was even nicknamed "Dick", short for Richard.
- It was incredible, we came from two different bands, hardly even knew each other and had never played together and everything just fit together perfectly, Micke Syd said.
My loose thought was that Nisse would stand for the Lonely Boys' rock and rhythm and blues side while Per would stand for the Lonely Boys' more pop-influenced side, and largely that's the way it turned out to be.
But the most beautiful ballad here, "Flowers on the Moon" which Per sings, is written by Nisse.
And the best Rolling Stones 1965-66 that I've ever heard, "Adam & Eve" which Nisse sings, is written by Per.
Nothing is what you believe it is.
- I've always wanted to do a cover of "So Much In Love", that Stones song that the Stones never recorded but which appears on the Inmates' first album, is it possible to get that in the book somehow? Nisse asked.
It was.
- I've written a song named "Lonely Boys" now, is it possible to get that in the book somehow? Per asked.
It was.
And when I'm sitting here with the CD I still don't understand much, and when I hear it for the zillionth time it's still as revolving.
If it is fantasy or real, I have no idea..
The only thing I'm sure of is that the Lonely Boys were the kings of Top Ten.

Mats Olsson, author of "De Ensamma Pojkarna"
Translation © 1995 by Thomas Evensson.